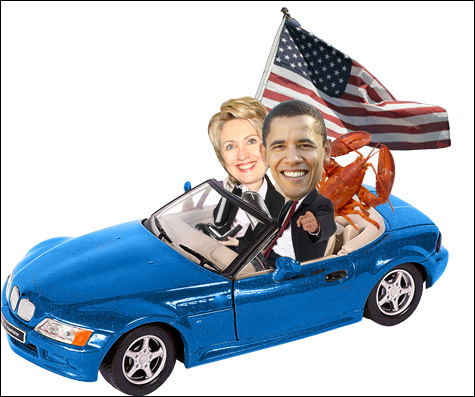 Were Hillary and Barack being honest when they said in the Ohio Debates the United States could "opt out" of the 14-year-old NAFTA pact if Canada and Mexico refuse to strengthen labor and environmental provisions and modify an investment chapter that critics say favors corporate interests too much?
Did Obama's senior economic adviser tell Canadian officials privately that Obama's criticism of the free trade agreement with Canada and Mexico was "political positioning"?
Now, Reuter´s is reporting:
Mexico businessmen unfazed by U.S. NAFTA threats
Thu Mar 6, 2008 5:13pm EST
MEXICO CITY (Reuters) -
Mexican factory owners are shrugging off threats by U.S. presidential candidates to retool a major free trade deal but say they would worry if the talk continues after election day in November. As they vie for the Democratic Party nomination,
Barack Obama
and
Hillary Clinton
have vowed to tell Canada and Mexico that the United States will pull out of the North America Free Trade Agreement unless labor and environmental standards are renegotiated. Yet even if one of them wins the November election against presumptive Republican nominee
John McCain
, a NAFTA supporter, few see Washington easily reopening the trade deal, the fruit of years of thorny negotiations.

"I really doubt they would go through with it. They are just playing politics," said Cesar Castro, who heads Mexico's association of maquiladoras

, the assembly-for-export factories that dot the border with the United States.
Castro said killing NAFTA or changing it to favor American workers would shut down Mexican factories and hurt employment in Mexico. "

Illegal migration would spike and we all know they don't want that

," he said.
By reducing or eliminating tariffs, NAFTA has helped make Mexico the No. 3 business partner with the United States, after Canada and China. "There are net benefits on both sides of the border, so I don't think they will touch it," said Jose Antonio Abogaber, who heads the chamber of shoe makers in the industrial state of Guanajuato. Conservative Mexican President Felipe Calderon's government has made clear it is happy with NAFTA the way it is, while warning against any move away from free trade. "NAFTA has been successful for each of the three countries," Economy Minister Eduardo Sojo told reporters in Toronto earlier this week. "

What we need is more integration, not less integration.

"
----------------------
Readers, What are you thoughts? We know John McCain will continue with NAFTA, Big Business and his partnerships with his RNC Cronies. W
hat about the Dems? Will they make changes as they promised? Or will they say one thing and continue with politics as usual?
Should we be concerned?
Is NAFTA a problem? If not, then why doesn´t McCain, HRC and BHO explain the real issues?