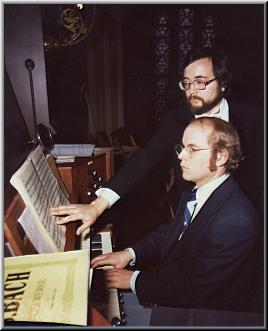 About My Choir Director - A reprint from a Previously Posted Comment:
(Please reference YouTube Video in upper right hand corner of my Blog)
My sisters and I all sang in our church choir. My oldest sister is 10 years older than me. She started the tradition by joining choir during her senior year in high school. When my next oldest sister was in high school, she joined. When I entered high school, I joined, then my two younger sisters did the same.
During Holiday Seasons, when all were in town, we sang in our hometown church choir. Three of my sisters were sopranos. Two of us were Altos.
Our Choir Director was a very compassionate man. He treated all members the same, old or young, white, black or brown, rich or poor. He was tough on all of us. He was well schooled in voice and had a beautiful, glowing tenor voice. He taught us to sit up straight, sing from our diaphram and sing with our full voice. He taught us to sing a capella. He took us through very boring voice exercises until we thought we would drop. He taught us other exercises like practicing at home and holding your nose while you sang to test whether you were singing through your nose. He taught us breathing exercises. He taught us to sing from our heart, like we meant it. He said he could tell the difference because when we sang from the heart, he would get goosebumps. He didn´t have to teach us to do all this. None of us were rich. He was barely paid by the church. He could have been another Pavarotti but he chose to stay in a small town, living life with his family, teaching at a nearby college. He taught us to sing Gregorian Chants, Mendelsohn, Brahms, J.S. Bach and songs of all of the great composers.
During Christmas times, he brought in the timpani, sometimes with flutes and a harp.We were a rag tag choir of a few former migrant workers and elderly church ladies and gentlemen. People who came to hear us were astounded by our sound, this small group in such a large cathedral. We once hosted the choirs of the city and all were just amazed by our sound. My choir director gave us these beautiful gifts to carry with us all of our lives.
Last night, I dreamed about him and about this song. It is by J.S. Bach titled "Sheep May Safely Graze and Pasture." I remember the very light runs on the organ by our Conductor. I still get goosebumps when I hear them. I am sharing them with you now. Please click on the video in the upper right hand corner of my blog to see what I mean.
Our Choir Director was our Teacher. He shared the Gift of Music and the Classics with us. He was a True Humanitarian!