Unbelievable events are occuring in from the Minutemen Ranks. The "Heinous MM Leaders," as I´ve often reported, have their own agenda and it is called Personal Power and Media Attention. Now their followers are seeing this for themselves.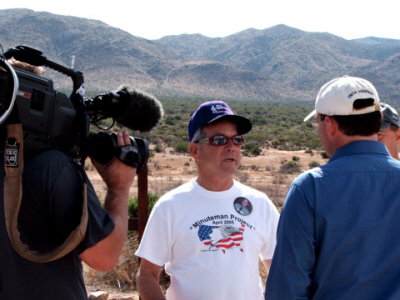 First, MM Founder Gilchrist endorses Mike Huckabee, much to the chagrin of their largest ANTI group Leaders. (e.g.
Alipac´s William
and
American Patrol´s Spencer
).
Now, the
Arizona Daily Star is reporting
Simcox is saying he has been misunderstood and we do need to institute some Comprehensive Immigration Reform Policies.
"I had pretty much written him off," Rios said of Simcox. Rios and Flores were willing to concede the border needs to be secured for a guest-worker plan to work. And earlier in the day, Simcox, a controversial figure who is credited and criticized for being the first to organize a citizen border patrol, made what some found to be stunning statements:

He supports public education for the children of illegal immigrants and sees the fix as not just an issue of enforcement, but of reforming Mexico's economy and basing the number of U.S. visas on the nation's labor supply.

"People have never really listened to the entire scope of what our organization stands for," Simcox said. "
The day, filled with panel discussions and retorts from county sheriffs and lawmakers from around the state, was not devoid of disagreement. Some questioned the accuracy of academic studies portraying immigrants as a net gain for the economy — not a drain. Others wondered whether those who want to stem the flow of illegal immigrants are really standing behind the rule of law — or are just scared about the "browning of America," as Rios put it. While this group of about 70 was able to find consensus, there was an acknowledgment of political reality: Congress has failed to institute federal immigration reform. The location — downtown Phoenix — was fitting. Less than six miles away the immigration debate is unfolding in a vivid way at M.D. Pruitt's Home Furnishings. The Phoenix store has attracted national attention because of a standoff among immigration activists, sheriff's deputies and the store owner, who has hired off-duty deputies to catch day-laborers.


"That's not the way to go about it," Simcox

said, admitting he'll take flak from border activists for standing against the action.

"My followers end up criticizing me because I'm too soft,"

he said at one point in the day.

Arizona Daily Star Publisher and Editor John Humenik stressed immigration is a local issue, pointing to the impact it has on the Tucson economy and culture. "I think our role here in Arizona and as communicators with the newspaper is to help the rest of the country understand what is a very local issue," Humenik said. "It can't be done in Washington. It has to be done in groups like this. It has to be done in communities like Tucson and Phoenix."

Some of the recommendations out of the forum included asking legislators to form a bipartisan immigration caucus, and one break-out group suggested

"eliminating the word amnesty from the dictionary."

But bridging the gap from a policy meeting controlled by moderators to the partisan halls of government — either Congress or the state Legislature — is a challenge. "It's very concerning to me — the rhetoric," said State Rep. Kyrsten Sinema, a Phoenix Democrat. "Our discussion around the issue of immigration has never been able to be focused on real pragmatic and practical solutions. We really need to have a well-rounded set of options on the table."
My Gosh! Ultima, Liquid, and all ANTIs, what´s next? Is your side really softening towards Comprehensive Immigration Reform? Can we come together as a Nation? Will this issue be resolved in time for the 2008 Elections?